Heads up, this post may contain affiliate links and any sales made through such links will reward me a small commission – check my Disclosure Policy to learn more. As an Amazon Associate I earn from qualifying purchases.
COMPLETE WILLOW BREAST PUMP REVIEW BY A LACTATION CONSULTANT
Are you a breastfeeding mom who pumps? 
Are you looking for a way to save time when pumping? 
Do you want to get more pumping sessions in but don't have the time?
I want to show you an innovative way for breastfeeding mamas who use a breast pump can save time. This ingenious invention is called a wearable breast pump. 
If you have been wondering if a wearable breast pump is the right pump for you, keep on reading. I have written a complete Willow breast pump review to help you decide if you should purchase one.
Moms are busy people, am I right? They are always looking for ways to save time. Pumping takes time. Being able to pump and do something else would save moms so much time. There is finally a breast pump that will save you time
A whopping 95% of moms in the USA have used a breast pump at some point in their breastfeeding journey. This was according to a survey conducted in 2019 by Mamava. 
If you have never heard of a wearable breast pump, then you are in for a wonderful surprise.
MY REVIEW OF WILLOW BREAST PUMP
My Willow Breast Pump Review will answer every possible question you might have about the Willow wearable pump.
I will also do a comparison to another wearable breast pump, the Elvie.
Willow sent me a pump so I could see how it works for myself. I gave it to one of my clients to use and talked to other moms about their experiences with the Willow pump. 
I have read the entire Willow website. I have talked to many moms who have used the Willow.
When you are finished reading this review of the Willow breast pump, you will have all the information you need to make an informed decision.
While I usually refer to it as the Willow "pump," it is actually two individual pumps. One for each breast.
WHAT MAKES THE WILLOW BREAST PUMP UNIQUE?
Most pumps are comprised of the flange, connectors, and bottles that attach to the actual pumping unit via tubes. 
Note: Flanges are also referred to as breast shields, and I use the terms interchangeably. 
I have had so many moms ask me over the years if there is a good hands-free breast pump. 
For years a hands-free pumping bra was the best a mom could do if she wanted to pump hands-free. While hands-free pumping bras provide excellent convenience, you are still tethered to the pump itself. 
There is one pump available that you can clip the power source of the pump onto your clothes. However, that doesn't work with every outfit you wear. It can be bothersome to have it attached to you that way. And you still had to have the bottles and breast shields attached to you.
To be honest, all the straps and clips involved with that were intimidating and confusing to me. And I am not a sleep-deprived new mom.
I have talked to so many moms who wanted a pump that they could wear and pump while they went about their daily tasks. That is precisely what a wearable breast pump does.
The Willow wearable breast pump is exactly what mothers have been asking for. It has revolutionized pumping. It is so innovative that in 2017 it was chosen as one of TIME's 25 best inventions. That is pretty impressive!
What sets the Willow pump apart from most regular pumps is the fact that you can use it without being attached in any way to a large pumping unit like traditional pumps. It is an entirely wearable breast pump.
Hands-free pumping bras have become one of the most popular breastfeeding accessories on the market. When I see moms in my office, they are often distressed if they forget their hands-free pumping bra. They have really come to depend on them to make pumping easier. 
With a wearable breast pump like the Willow, you don't need a hands-free pumping bra! Hooray, for one less item to wash and keep track of.
There have been other wearable breast pumps on the market over the years. But those pumps had tubes with bags hanging under your bra. That always sounded like a recipe for disaster to me. Trust me when I say, a breastfeeding mama will cry if she spills her milk.
Another unique feature of the Willow is that it is also a smart pump. There is an App you can download to use with it. The app keeps valuable information about your pumping session—more about what all the app does in a minute.
WHAT ARE WEARABLE BREAST PUMPS?
A wearable pump is a battery-operated self-contained pump unit that you place in your bra. 
Using a wearable pump will provide you with unrivaled freedom. 
Just think of the possibilities about where and when you can pump.
Getting ready in the morning
While you take a walk
Cooking
Sitting at your desk at the office
Driving. It is perfect if you have a long commute to work or go on a road trip.
Grocery shopping or at the mall– it is that quiet!
Doing laundry
Giving your baby a bath
While breastfeeding on one side, you can easily pump the other breast.
Anywhere you want to sit without the inconvenience of needing to have an outlet nearby.
One of the key features of the Willow is the app you can use with it.
The app has a quick start guide, which will enable you to start pumping with your Willow in no time.
Track how long your pumping session last.
It tells you how much milk you are getting from each breast as you pump.
Provides you with tips personalized for you
Records your pumping history by date, time, length of pumping session and amount pumped
You can add your own background photo.
Read-out of suction level
Reminds you when it's time to charge the pump.
Compatible with iOS
Compatible with supported Android models (specific models available on the Willow website).
MY YOUTUBE UNBOXING OF THE WILLOW WEARABLE BREAST PUMP
If you are more of a "show me" type of woman, then check out my unboxing of the Willow breast pump the company sent me.
The Willow is beautifully packaged. The design of the pump makes it easy to put into your bra and use it discreetly. This is clearly a well thought out breast pump. 
HOW DOES THE WILLOW PUMP WORK?
It is pretty easy to use the Willow breast pump. You basically just put the units into your bra or tank top and turn it on. 
There are a few steps to get it ready to insert into your bra. 
• Charge the pumps with the charger.
• You attach the Flextubes to the flanges.
Connect the Flextubes to the bag or reusable container.
Place the flange on your breast and make sure your nipple is centered.
Attach the pump to the flange.
Turn it on.
It will make some noises, and combined with the lights on the pumps, and you will know if it is positioned correctly or needs to be adjusted.
Once the pump initiates latch, you just leave it in your bra or tank top. 
The pump will sense when your milk lets down and will automatically switch to the expression phase.
When you are finished pumping detach the flange and remove the self-sealing bag or the reusable container.
If you use the reusable container, you will need to pour your milk into the storage container of your choice.
I really love Milkies Milk trays for freezing breast milk. Being able to store your milk in one-ounce amounts makes it super convenient to thaw exactly how much milk you need. If you have an extra hungry baby and need a little more, you can easily and quickly thaw another ounce.
WHAT ARE THE HIGHLIGHTS OF THE WILLOW?
The Willow is spill-proof. According to their website, you can pump lying down and even bending over.
You have the option to use bags that are one-time use or a reusable container. If you use the bags, you can pump directly into the spill-proof self-sealing storage bags.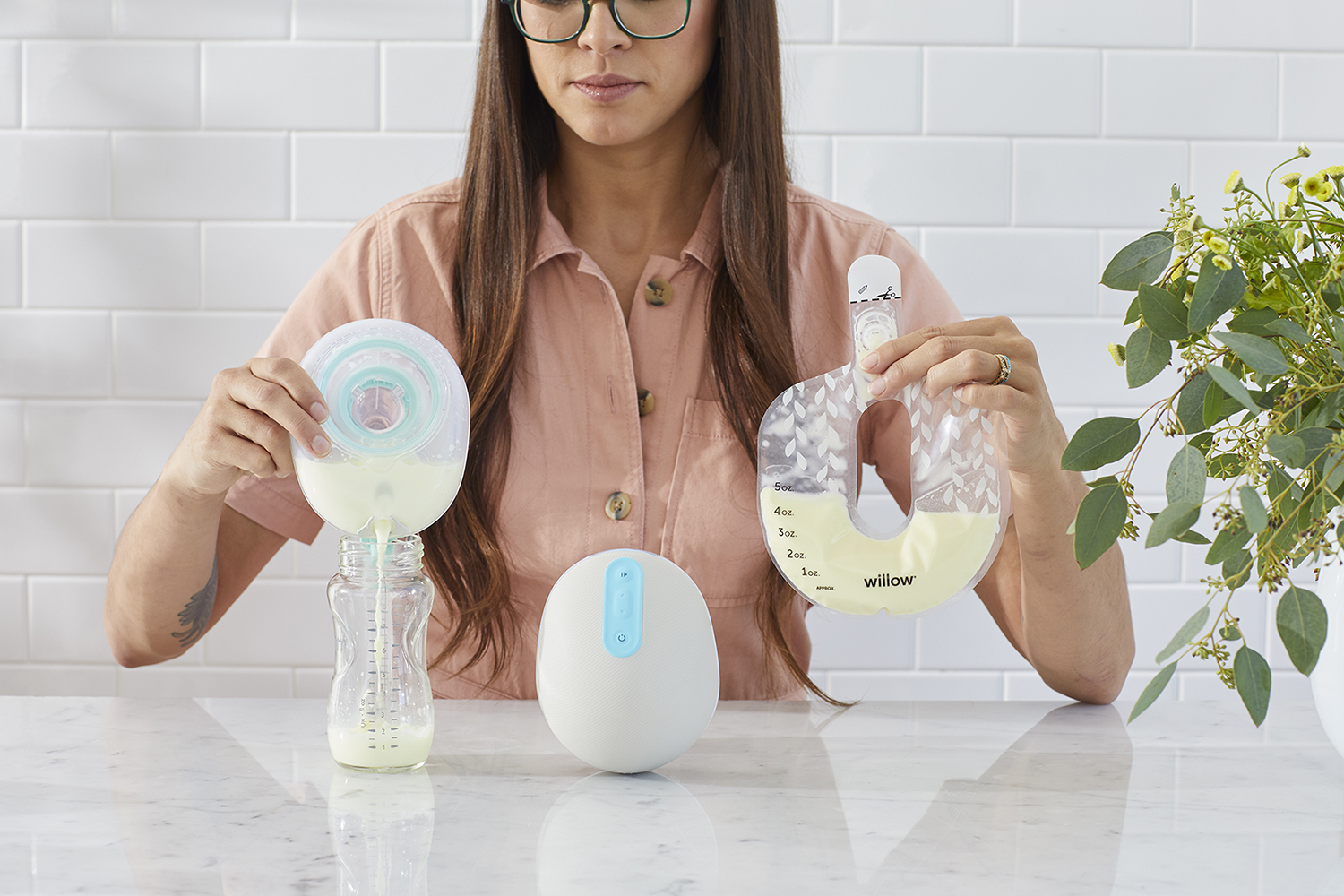 You can put the bags in the freezer or refrigerator—no transferring to another container needed.
When you are ready to use the milk, you simply cut off the end and pour it into a bottle.
If you want a more environmentally friendly option, you can purchase the reusable containers to pump your milk into. The reusable containers will also be a more budget-friendly option

These have an air vent, which means you can't bend over or lay down without risking your milk leaking out.
You would pump and pour the milk into a bottle to feed or pour the milk into milk storage freezer bags or milk storage trays.
You can alternate between the bags and the containers, depending on which option suits your needs at each pumping session. If you are out and about, it will probably be easier to use the bags since you can just store them in an insulated cooler bag with some freezer packs.

The pump's suction is continuous, which is more like how a baby sucks. They call this the Smart Suction technology.

A pumping rhythm that is slower and softer
Sensitivity setting that is adjusted based on your preferred comfort
There are seven suction levels

The latest version of the pump, the Willow 3, results in 20% more milk pumped.
The pump shuts off when the bags or containers are full.
These pumps are very compact compared to a traditional pump. If you are a working mom, you will need a much smaller pumping bag.
Rechargeable battery
No need to have access to an electrical outlet
No need for a special hands-free pumping bra. 
WHAT ARE THE CONS OF THE WILLOW?
The bags or containers have a max of 4 oz each. This means if you pump both breasts, the pumps can accommodate a maximum total pumping of 8 oz. That assumes pumping equal amounts from both breasts. This will be adequate for the majority of moms. 
Those mothers who pump large amounts would have to stop and put in a new bag or container. For the mom who pumps out a large volume quickly, this would probably be inconvenient.
The Willow is expensive.
I hesitate to put a price here because that is something that can change. They offer sales regularly, as well. 
I am publishing this in April 2021, and today the price on their website is $499.99. 
They offer free shipping.
They offer several payment plans, with the shorter-term plans being interest-free.
The Willow breast pump is eligible for FSA/HSA reimbursement. 
WHAT COMES WITH THE WILLOW PUMP?
2 Willow pumps
2 Flanges (these are also sometimes referred to as breast shields) – you choose the right size flange for you
2 Flextubes – when the milk is pumped out of your breasts, it flows through this piece into the bag or container.
1 Charger
24 – 4 oz Milk Bags (one-time use bags)
2 sizes of Cleaning Brushes
DOES THE WILLOW HAVE DIFFERENT BREAST SHIELD SIZES?
Having different sizes of breast shields/flanges is important. The right size flange affects both comfort and how much milk you can pump.
The Willow offers three different sizes of flanges. They include the 24 mm and the 27 mm in the box. If you request a 21 mm flange, they ship it in a separate box.
The Willow is not going to be a good choice for a mom with large nipples.
WHAT ACCESSORIES ARE AVAILABLE FOR THE WILLOW WEARABLE BREAST PUMP?
Willow Reusable Milk Containers
One unique available accessory and unique to the Willow wearable breast pump is the option to use the reusable containers.
2 pack – $49.99
There are two parts to the reusable containers.
Container
Insert
4 oz capacity
Dishwasher safe
BPA Free
According to the company website, they should be replaced every three months. In reality, how often you need to replace them will probably depend on how often you use them. One of those, "your mileage may vary" kind of thing.
Flextubes 
Flextubes are the pieces that help pull the milk into the bags or reusable containers.
2 pack – $29.99
Must be cleaned after each use 
Some moms like to have extras on hand
According to the company website, they should be replaced every three months.
Dishwasher safe
BPA Free
Other Willow Accessories
Milk container inserts – $19.99 for a pack of 2
Available in 21 mm, 24 mm and 27 mm sizes
Should be replaced if your inserts are showing signs of wear or if your size changes. Needing to change sizes is not common, but can happen.
Spill-proof milk bags – $23.99 for 48 bags
Flanges – $29.99 for a 2-pack. 
Charger – $29.99 – having an extra charger allows you to charge both pumping units at the same time.
Willow has free shipping for orders over $70.
Time-saving tip – having extra flanges and Flextubes means you don't have to wash everything every time you need to pump. 
Related Post 
How To Clean Your Breast Pump Parts – Lazy Mom's Guide
WHAT DO MOMS HAVE TO SAY ABOUT THE WILLOW BREAST PUMP?
Game changer – this comment gets repeated again and again
This was a life-saving product for a new mom
Easy to use
Convenient
Worth the price
Freedom
Provides so much flexibility
Enabled me to keep breastfeeding
I was able to pump at work even when I couldn't take a break.
A working breastfeeding mom's best friend
It is nothing short of amazing the different things I can do while I am pumping.
My client who I gave the Willow to gave me this feedback:
Pros of Willow Breast Pump
Fantastic at extracting the milk
No leaking during pumping
Don't have to transfer the milk from a collection container because it goes right in the bag (she was using the bags; she did not try the reusable container).
Cons of Willow Breast Pump
It was difficult to get the pump to finish pulling the milk into the bag, and this resulted in milk leaking when I removed the bag from the pump.
Very large units
"Overall, the Willow is a fantastic pump!"
TIPS TO GET THE MOST MILK WHEN USING THE WILLOW
Wear a bra that will keep pump snug against your breast. The Willow website recommends you wear a stretch full coverage nursing bra that has a flap. They also recommend underwire bras and padded bras. This is the kind of thing where you can experiment and see what works for you.
Adjust the suction to the level at is strongest but still comfortable. Pumping should not ever be painful.
Massaging your breasts during pumping helps get more milk out (Source).
Use a lactation massager or roller like the La Vie Lactation Massager.
FAQ'S ABOUT THE WILLOW'S RECHARGEABLE BATTERY
How Long Does It Take To Fully Charge The Willow Pump?
A full charge requires about 2 hours.
What Do I Do If I Forgot To Charge My Willow and Need To Pump?
A twenty-minute charge should be sufficient for one pumping session.
Don't forget; the app reminds you when you need to charge the pumps.
How Many Pumping Sessions Will I Get When The Willow Is Fully Charged?
You should get about five pumping sessions when your Willow has a full charge.
FAQ'S ABOUT PAYING FOR THE WILLOW WEARABLE BREAST PUMP
Can I Get The Willow Through My Insurance?
To find out if your insurance benefits will cover a Willow breast pump, contact your insurance provider. Every company is different, and there can be variations from plan to plan by the same insurance company. If they do not cover the entire cost, they may cover part of the price or allow you to upgrade if you pay the additional amount.
Is The Willow Eligible For Reimbursement Through My FSA/HAS?
Yes, the pump itself and the accessories are FSA/HSA eligible. This includes the milk bags.
Does Willow Offer A Payment Plan? Yes, they do. Check the Willow site for more information on what they currently offer.
HOW DISCREET IS THE WILLOW IF I WANT TO USE IT WHEN I AM OUT IN PUBLIC?
The Willow is designed so that it can fit in your bra and not be obvious that you have pumps in there. It will definitely make you larger. The difference is going to depend on the size of your breasts.
How obvious it is will also depend on what you are wearing. A clingy t-shirt is going to show more than a sweatshirt or an oversized sweater.
How important this is will depend on each individual mother. You need to ask yourself how often you will want to wear it when you are out and about. And how much do you care how large it makes your breasts look. 
In real life, most moms are going to be wearing it while they are at home or in the car or in their offices. 
The Elvie is another wearable pump. Here is a quick comparison between these two wearable pumps.
What do the Willow and the Elvie have in common?
The price is the same for both pumps (see below).
Include the two larger flange sizes.
Seven adjustable suction settings
Senses when a mom's milk lets down and automatically switches to the expression setting.
Have approximately the same three flange sizes available.
Reusable container option
Both are smart pumps with an accompanying App.
Both offer free shipping for pumps
Both can be purchased from Amazon.
How are the Willow and Elvie different?
You can get a 21 mm at no charge with the Willow.

Elvie charges $29.99 for the smaller 21 mm size.

Willow gives you the option of the one-time use of self-sealing bags or reusable containers. Elvie only has a reusable container.
Willow has only two parts to clean. Elvie has five parts to clean.
Willow parts:
Elvie parts:

Flange
Seal
Valve
Spout
Bottle

If you use the reusable containers for the Willow, you would have three parts to clean.
Willow includes two brushes of different sizes to clean the different pump parts.
Elvie bottles are 5 oz each
Warranty length

Willow warranty is 12 months
Elvie warranty is two years

Elvie gives you the option of purchasing a single pump. The current price in July 2020 is $279 to buy a single Elvie pump unit. If someone wanted to have a wearable pump but couldn't afford the full amount, they could buy one and just pump one breast at a time.
Which Is The Best Wearable Breast pump?
I really like that the Willow offers the option of bags or reusable containers. That feature really gives it the edge in my mind.
If you use the bags the fact that you can pump in any position without leaking makes it amazing.
IS THE WILLOW A GOOD CHOICE IF I AM EXCLUSIVELY PUMPING?
This will depend on how many times a day you need to pump. I recommend that any mom who is establishing her milk supply with a breast pump should strongly consider renting a hospital-grade pump like a  Medela Symphony for at least the first month. 
When you are establishing your milk supply, you need to pump a minimum of eight times every 24 hours. Some mamas find that once their milk supply is well established, around 4-6 weeks, they don't need to pump as frequently. If you only have to pump five times or less, the Willow is a good option. 
If you have to continue pumping eight times a day, the Willow is a good option for some of your pumping sessions. It would, in fact, be a terrific time-saver.
To be clear, when I say X number of times a day, I mean in a 24 hour period. I am not talking about just the daytime hours.
Related Posts
Essential Steps To Have A good Milk Supply
Exclusive Pumping – Everything You Need to Consider
REASONS TO BUY DIRECT FROM WILLOW
While Amazon is the go-to for many people I urge you to consider visiting their site before you purchase.
Willow has some great sales on its site. I recommend that you check them out first.
They also offer a payment plan.
FINAL THOUGHTS ON MY WILLOW BREAST PUMP REVIEW
There are so many moms I have worked with who could have benefited from the Willow.
One mom had three kids, and her new baby had a very weak suck. She needed to pump to keep up her milk supply. The amount of time it took was really challenging. The Willow would have been an enormous help.
I think of all the moms who have had to triple feed. That's when you breastfeed, supplement with a bottle and pump. This routine is time-consuming, and many moms find it a challenge to keep up with it for any length of time. This is especially true for moms with other little ones they need to attend to. 
After I had my first baby, I went back to work as a labor and delivery nurse. There were many crazy shifts where I didn't get time to pump. As a result, I quit that job. A pump like this would have enabled me to keep working.
I think the Willow is a genius pump and definitely worth considering.
Related Posts
Everything You Need to Know About Pumping
Increase Milk Supply By Pumping – 9 Genius Ways
Spectra Breast Pump Reviews By A Lactation Consultant